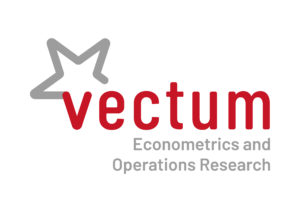 Vectum is the study association for all Econometrics and Operations Research students at Maastricht University. It was founded in 1994 and, as of today, has about 280 members, including an increasing number of foreign students.
Throughout the year Vectum organises a broad range of activities. The range of activities covers social events, such as drinks, sports events and a Members Weekend, as well as academic and career-related events. Examples of the latter are research lectures, the Case Day, and the Business Trip. We also have our own magazine, the PerVectum, which is published online quarterly.
Further, Vectum works in close cooperation with the department of Quantitative Economics on the evaluation and further development of the study program Econometrics and Operations Research. Vectum's main goal, however, is to offer the students insights into real world applications outside of university. The most important way we achieve this is by establishing a direct link between companies and the students.
If you have any questions about studying Econometrics and Operations Research in Maastricht or about Vectum contact us via info@vectum-maastricht.nl or visit our website.